DMXCP Monthly Report
December 2021 – DMX
Download monthly report
An investment company managed by
DMX Asset Management Limited
ACN 169 381 908 AFSL 459 120
13/111 Elizabeth Street, Sydney, NSW 2000
DMXCP directors
Roger Collison, Dean Morel, Steven McCarthy
Opening NAV (30 November 2021)
$3.0989
Closing NAV (31 December 2021)
$3.1001
Fund size (gross assets)
$26m
% cash held - month end
4%
3-year return (pa.)
31.74%
Since inception (6 years & 9 months) (pa.)
22.78%
Since inception (6 years & 9 months)
298.79%
Dear Shareholder,
DMXCP's NAV increased 0.04% (after all accrued performance and management fees and expenses) for December 2021. The NAV as at 31 December 2021 was $3.1001 compared to $3.0989 as at 30 November 2021.
In relation to the broader market, the All Ordinaries increased 2.53% during December, while the ASX Small Industrials Index was up 0.50%.
DMXCP returned 28.06% for the 2021 calendar year.  
December portfolio developments
After a busy period of company updates during October and November, December was quieter in terms of news flow. December did however see a number of capital raisings ahead of the Christmas break. We participated in raisings undertaken by Laserbond (ASX:LBL) and Credit Clear (ASX:CCR) which were both seeking capital to fund the purchase of strategic accretive acquisitions. (LBL purchased a QLD engineering business to expand its operations into QLD and northern NSW, while CCR purchased a leading debt collection business with an impressive client base that it expects to transition onto its digital debt collection platform).
The portfolio finished the month flat. Solid performances from Cryosite (ASX:CTE)(+29%) and Schrole Group (ASX:SCL)(+33%) were offset by share price declines from Kip McGrath (ASX:KME), Australian Family Lawyers (ASX:AFL) and Joyce Corporation (ASX:JYC) which all fell ~10% on no significant news.
Heading into 2022
As we enter 2022, our portfolio continues to be very much weighted to profitable, attractively valued, small companies with strong growth outlooks.  Our top 10 positions, which comprise ~40% of the portfolio, are all profitable with clear short term and long term growth opportunities supported by positive industry trends and tailwinds. We have held many of these positions for many years, so we know them well, and consider them to be competently run and with strong balance sheets.  We review these top 10 positions and provide our comments on their outlook and our expectations for 2022 and beyond, below.
Portfolio company

2022 outlook / expectations

Sequoia Financial Group (ASX:SEQ)

Diversified wealth manager SEQ continues to benefit from strong industry tailwinds and is experiencing positive momentum across all its operating divisions.  We expect SEQ to deliver a minimum 30% EBITDA uplift for FY22 reflecting ongoing revenue growth and margin improvement. In a recent presentation, the company noted it had $18m surplus cash and was currently generating $800k-$1m free cash a month, suggesting it is trading on a 15% cash yield.

PTB Group (ASX:PTB)

PTB is beginning to replicate the success it has had with its unique Australian 'power by the hour' plane engine maintenance model in the much larger US market. At its recent AGM, PTB advised it was experiencing an increase in engine work in its US facilities, aided by the implementation of its Australian operational framework. PTB has forecast FY22 PBT growth of between 13% & 22% on the back of strong trading conditions in the USA and Asia Pacific regions.  

Pure Profile (ASX:PPL)

Data and insights company PPL is seeing strong growth particularly in new markets, which helped drive a 61% increase in Q1 revenues with normalised EBITDA up 330%. PPL has provided FY22 EBITDA guidance of between $4.0m & $4.4m, up ~50% on normalised FY21. Structural trends towards first party ownership of data will continue to benefit PPL in 2022 and beyond, while PPL is expecting a large step up in margins over the medium term as it scales and focusses on its higher margin revenue streams.

Kip McGrath Education Centres (ASX:KME)

Global tutoring company KME reported Q1 revenues up 22% and we expect there to be strong demand globally for remedial teaching in 2022, with parents concerned about the time children have spent out of school. KME lesson numbers have now returned to pre-COVID levels, with lesson numbers for Q1 of FY22 up 8%, notwithstanding the Australian and NZ lockdowns.

Janison Education (ASX:JAN)

JAN's online examination / assessment platform is the global benchmark for high-volume, high-stakes exams, delivering over 6m digital exams to over 4.5m students in 117 countries during FY21. COVID has rapidly accelerated a permanent adoption of digital assessments, which is expected to result in strong growth for JAN over the coming years as it heads towards its FY25 $100m revenue target.

Joyce Corporation (ASX:JYC)

2022 will see JYC continue with its national roll out of its KWB kitchen renovation business, with KWB revenues expected to exceed $100m, making it Australia's largest kitchen renovation business. JYC continues to maintain a strong balance sheet, with a further $5.5m to be realised from the sale of its corporate headquarters, while an accretive acquisition has also been flagged.

Cryosite (ASX:CTE)

At its December AGM, CTE highlighted 20% revenue growth in its clinical trial logistics (specialised storage and transport) business, and strong cash generation with cash now at $5m. CTE is benefiting from onshoring of clinical trials as governments increasingly appreciate the importance of drug development from both a political and supply chain perspective– a trend that we expect to support continued strong revenue growth for CTE over the coming years.

Ansarada (ASX:AND)

We are confident that the key tailwinds that have benefitted deal and compliance software company Ansarada in 2021 will continue into 2022: 1) high levels of global M&A activity & 2) increasing demands on boards to manage ESG and general compliance. With an addressable market of $50b+, AND is well placed to capitalise on these tailwinds and to substantially grow its global revenues. A recent $1.2m contract with NSW Dept of Transport highlights its ability to secure large value enterprise deals.

Laserbond (ASX:LBL)

We expect 2022 to be a good year for laser engineering technology company LBL: 1) Opening of international borders should support growth in technology and product sales; 2) its recent accretive acquisition provides a beachhead for growth in Queensland; 3) ESG trends provide a strong tailwind for its products and services (extending life of heavy duty equipment in a cost-effective manner); & 4) three recent technology licensing deals validate LBL's offering and provides encouraging business momentum.

Diverger (ASX:DVR)

(previously Easton Investments)

After a quiet 2021, wealth and accounting services provider DVR enters 2022 with a refreshed board and management team, an important and supportive major shareholder (ASX:HUB) as well as a new name. Trading on 10x NPATA, DVR is well placed to be a key consolidator of the fragmented financial advice industry where increased regulation and conflicted operating models has seen the exit of the major players (banks). Management has an aggressive target to triple net revenue by FY24 through both organic and inorganic initiatives.
Outside of these top 10 positions, we have a range of holdings that we are optimistic about as we head into 2022. Other key positions of particular note include:
We are expecting strong growth and a successful 2022 from our basket of emerging, relatively under-the-radar, digital disruptors: Credit Clear (ASX:CCR), Medadvisor (ASX:MDR), Xref (ASX:XF1) and Schrole (ASX:SCL). These are market leaders with first mover advantages in their particular sectors with large global opportunities. We believe these names (comprising ~10% of our portfolio in aggregate) provide us with well-priced exposure to the dominant global trend of increasing digital engagement by consumers and businesses.
Australian Family Lawyers (ASX:AFL) closed the year with its share price at a 52 week low, but we believe the company is now in its best shape in the time that we have owned it. With revenue approaching $20m, AFL is reaching a meaningful scale relative to its head office costs, which have previously been a drag on profitability. With a strong first quarter profit result, we look forward to the half year results as clear profit and value emerges to complement its strong growth outlook and disruptive qualities in an industry which is unfortunately experiencing high demand.
A recent comparable transaction (ASX:BBC selling its mortgage broker aggregator, Finsure, (2,400 brokers) to ASX:MAF for ~$150m) has highlighted the value in Yellow Brick Road (ASX:YBR). YBR owns a smaller aggregator business, Vow (1,320 brokers), together with its separate Yellow Brick Road broker franchise network, a $200m lending business, and has an asset comprising over $40m in trailing commissions receivable, all for a current EV of just $30m. (e. the NPV of YBR's trailing commissions exceeds its enterprise value. The Finsure transaction now provides a valuation reference for one part of the YBR group). The strategic importance of brokers and aggregators is growing as Australian borrowers continue to increase their use of brokers – 67% of mortgages in Australia are now written by brokers. YBR is well placed to capitalise on this structural shift being experienced by the mortgage industry.
While we don't have any special insight as to how the markets will perform during 2022, we are confident that the exposures that we have to growing companies with strong operational momentum and benefitting from compelling tailwinds and trends, positions our portfolio well for continued long term success. We will remain disciplined and focused on identifying the most interesting and attractively valued under the radar small companies with material upside potential. 
We wish you, your friends and family all the best for 2022.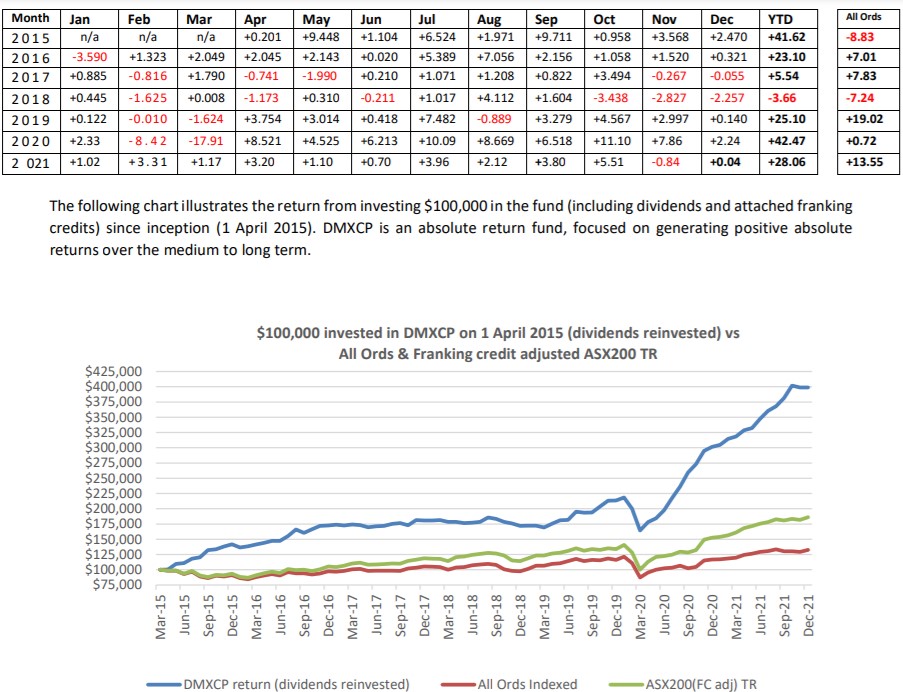 Subscribe to our monthly report
Each month we provide a commentary on news across our portfolio and drill down on specific companies of interest.
We're proud to share our insights with a range of subscribers including current investors, prospective investors, private investors, and industry friends.