Corum Group (COO:AX) provides software and technology to the pharmacy industry in Australia. While Corum reports a single operating segment, it services pharmacies in two key areas:
Pharmacy software. This includes dispensing, Point of Sale (POS), and head office (for the owners of a pharmacy brand) software solutions.
PharmX ordering platform. This is an electronic order and invoicing gateway that connects ~99% of Australian pharmacies with their wholesalers and direct suppliers. Corum is looking to expand the functionality and market opportunity of this part of the business with a recently released offering, PharmXchange.
History
Corum (formally Cosmos Group) has been listed on the ASX for over 20 years and it is noteworthy that it recorded revenue in 2002 that was higher than 2022. Notable issues have been:
Software quality issues dogged the company in 2015 and with increased competition, revenue has been downhill since.
 More recently the company has been developing new versions of the software with high investment costs while supporting multiple versions.
A highly competitive market with lower cost competitors taking market share.
Government mandated functionality has required further investment.
A number of changes of management and a fractured shareholder base has led to strategy changes.
A loss-making real estate e-commerce platform that was a distraction.
A legal stoush with former PharmX shareholder and competitor, Fred IT has been a cost burden.
As a result, after generating after tax profits of more than $6m in 2012 and 2013, Corum has been loss-making or barely profitable since 2016. Figure.1 highlights the revenue bleed of the software business over the past 10 years.
Figure.12 Software Revenue (see notes for assumptions)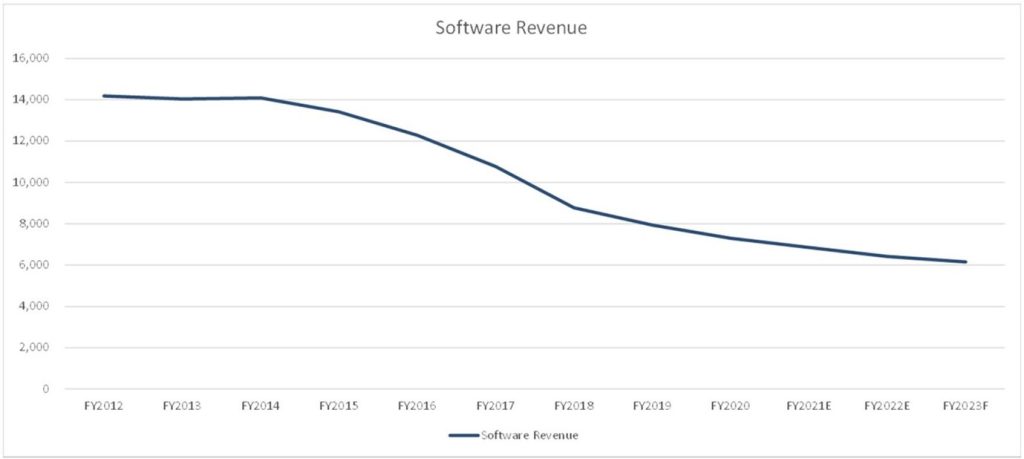 Shareholder movements
Corum had previously been controlled by former Chairman Bill Paterson, who until mid-2019, had owned >50% of the Corum Shares. In 2019, interests associated with pharmacy industry veteran Nick England became a substantial shareholder, with Nick England taking over the chair role from Bill Paterson in early 2020 (and subsequently became Executive Chair in early 2022). Later in 2020, Arrotex, Australia's largest generic and private label pharmaceutical company took a 10% holding in Corum, with its Executive Chairman, Dennis Bastas, being appointed as a director of Corum. At the time, Mr. Bastas noted, "We believe Corum is ideally positioned as a technology platform provider to Australian pharmacy and related healthcare sectors and look forward to assisting the Corum Board and management to create enhanced shareholder value". As a result of these transactions, and other share issuances, Bill Paterson's holding has now reduced from over 50% to 16%. While the new board hasn't got everything right, and has had to navigate the COVID challenges, it has been instrumental in two key developments that significantly improve Corum's investment prospects: 1) the acquisition of 100% of PharmX, and 2) successfully undertaking litigation against the previous shareholder of PharmX. We discuss these developments below.
Enter PharmX
Corum had owned 30% of PharmX since 2006, but in 2020 the new board were able to conclude negotiations to take full ownership. PharmX is an ordering platform that connects over 5,500 pharmacies to their suppliers both wholesale and direct, enabling efficient electronic ordering. Over $17billion of purchases are transacted through the platform each year. We think the PharmX business is a small but very high-quality business, given its market dominance with 99% of Australian pharmacies and all major suppliers and wholesalers using the platform. Given that dominance, suppliers are attracted to the platform as it gives them access to almost the entire pharmacy market, as well as having a single interface to service that pharmacy base. Not only is the platform dominant in the market, but it has also monthly recurring revenues (with suppliers paying PharmX to access and use the platform) and is very profitable with high margins and built-in inflation-indexed price rises. When Corum purchased the balance of the business in 2020, EBIT margins were a very attractive 45% . Revenue growth has near tripled over the last 10 years, and it continues to grow as more suppliers are bought on and pharmacies increase the utilisation of the platform.
Figure.2 PharmX Revenue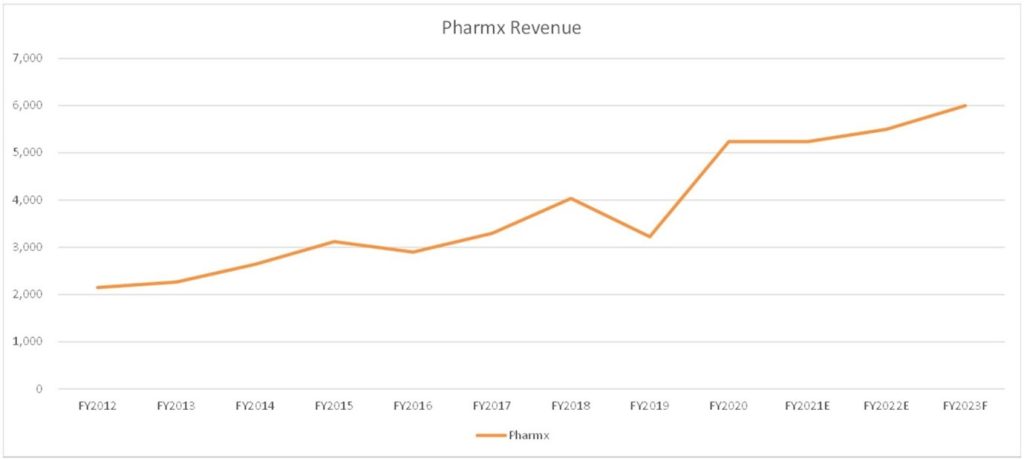 PharmXchange
With 100% ownership of PharmX, Corum now has a dominant position sitting between pharmacies and their suppliers and can now exploit that dominance by layering new applications onto the PharmX platform.
The first of these new initiatives is PharmX change. The technology was acquired from a third-party associated with the Chair/CEO, Nick England. It provides additional functionality including a pharmacy portal where suppliers can deliver promotions and digital sales including payments. There are some compelling advantages to both suppliers and pharmacies:
For smaller suppliers that don't have a PharmX connection, this provides an easy way for pharmacies to make electronic orders.
For larger suppliers, it provides an efficient way to promote their brands to smaller or regional pharmacies.
For pharmacies, it provides efficiencies by having a single portal that is integrated with PharmX. Pharmacies don't have to trawl through multiple websites for product information and ordering.
Since launching in June 2022, as at February 2023 Corum had signed ~25% of Australian pharmacies and 30 suppliers onto the PharmXchange platform, including significant brands such as Blackmores, Haleon and Revlon. Unlike PharmX, the revenue model is commission-based and has the potential to be quite lucrative if the current rate of take up continues and it becomes widely used by pharmacies. We estimate a TAM of ~$5b of which Corum takes c.7% commission on these transactions providing attractive margins.
Court Case with Fred IT
After Corum took over 100% of PharmX, it then sued Fred alleging Fred had received distributions from PharmX to which it was not entitled; and that the price paid by Corum to acquire Fred's PharmX shares had been inflated. After almost 3 years of litigation, on Friday, judgement was handed in favour of Corum, with Corum awarded $5.1m in damages, plus interest plus costs. This will significantly increase Corum's cash balance and removes much of the uncertainty which has been impacting the stock, although we note that Fred IT have 28 days to appeal the decision.
Future Direction
Corum's 2022 AGM commentary included a significant comment…"Today, Corum is a simpler business as a result of the disposal of the e-commerce real estate business and its focus on the role of a B2B enabler."
We understand this statement to mean the Corum software business is now non-core. Given the poor returns from the software business and significant capex demands, we would not be surprised to see this business disposed of. With ~20% of Australia pharmacies still using the software, there may be strong strategic value to an acquirer to access this market share, in what is otherwise a low growth market. For example, a competitor could accelerate its customer growth by acquiring Corum's market share and then migrating the Corum customers onto its own software.
Corum's software business could potentially be worth $5m to $15m based on sales of previous software businesses which have been sold on metrics of ~$7k (for 500 pharmacies) to ~$20k per pharmacy for 1,000 pharmacies.  The ARR of the software business is ~$6m, so 1.5x to 2x ARR doesn't seem unreasonable for a sale that would provide an acquirer with 20% of the Australian pharmacy market. Corum has previously sold its non-core real estate payment solution, so there is intent to simplify the business.
Valuation
Despite the recent rise in its share price following the positive Fred IT settlement, we still see plenty of upside from here. Corum's cash balance following receipt of the legal proceeds should exceed $10m. As mentioned above, Corum could potentially realise $5m to $15m by selling its software business. And we would expect the PharmX business to be soon generating close to $2m in annual free cash flows, after providing for corporate costs, and not accounting for any success from the PharmXchange initiative. On this basis, we see Corum being able to support a $40m market cap valuation on rather undemanding sum of the parts based assumptions.
Catalysts
With a positive outcome in its legal proceedings, catalysts from here include:
Selling its non-core software business.
The success of the new pharmacy payment and ordering platform (PharmXchange) that Corum have been developing and are excited about.
Capital management initiatives – With excess cash, it provides management with the option to make an acquisition, buyback shares, or return surplus cash to shareholders.
Summary
There is no disputing Corum's disappointing past, however, there have been several promising developments that, in our view, position Corum strongly for a more successful future:
The purchase of 100% of PharmX gives Corum control over a very profitable market leading business with an opportunity to further grow this attractive business.
The conclusion of the legal proceedings strengthening Corum's balance sheet and removing a long-term distraction.
A more balanced shareholder base, with experienced and well credentialed industry players now on the register as key shareholders and supportive of a growth strategy.
Management is committed to simplifying and re-focussing the business.
With its growing PharmX business, experienced Board and strong cash position and balance sheet, we think Corum's prospects from here look attractive.
Notes:
1.FY2021 and FY2023 are estimates as Corum does not break down segment revenue.
2.FY2023 is a DMX forecast
3.PharmX revenue assumes 100% ownership
Subscribe to our newsletter